Metal Is As Metal Does.
Staff member
Sep 30, 2001
354,010
485
83
IRON MAIDEN
vocalist
Bruce Dickinson
was interviewed on Chile's
Radio Futuro
before the legendary British heavy metal band wrapped its massive
"Maiden England 2013 World Tour"
on October 2 in front of an audience of 60,105 spectators at the national stadium Estadio Nacional in Santiago. You can now listen to the chat below.According to
MaidenRevelations.com
, Chilean newspaper
La Tercera
has called
IRON MAIDEN
the biggest foreign concert draw ever in Chile, with a total of 226,000 tickets sold for the seven shows the band has played in the country since 1996. This feat is made even more remrakble by the fact that
MAIDEN
was banned by the church from playing in Chile in 1992."Because we were banned in the '90s, people have felt a very strong connection to us,"
Dickinson told La Tercera
. "And we have always brought great shows with us and worked hard not to disappoint the audience."
IRON MAIDEN
first played in Santiago in 1996 at a time when the band was fronted by
Blaze Bayley
. The concert was attended by 18,000 fans and included the infamous "Blaze Gets Mad" version of the song
"The Trooper"
.During a recent interview with Chile's
Radio Futuro
,
IRON MAIDEN
guitarist
Dave Murray
was asked if there are any plans for the band to return to the studio to begin work on material for the follow-up to 2010's
"The Final Frontier"
."We've been out on tour quite a few months this year,"
Dave
explained. "So when we finish, we're actually going to go and head back and take a break, really."He continued: "We haven't got any plans, as such, really, what's gonna happen next year. Basically, we're just gonna wait and see. [
laughs
] But there's things that are going on in the meantime. I mean, we just had a beer come out — it's like the
Trooper
beer — and that's actually doing really well. So we'll just let the
Trooper
beer go on tour for us. [
laughs
] And then we're just gonna spend some time off recuperating. So I'm not quite sure what's gonna be happening next year. It's all up in the air."
IRON MAIDEN
in August landed at position No. 1 on
Billboard.com
's "Hot Tours" list of top-grossing tours with $8.5 million in ticket sales from six performances on their summer tour of Europe. The shows were attended by a total of 121,280 fans, including a two-night, sold-out stand on August 3-4 at the O2 Arena in Lonon, England, where the band played to 27,000 fans. With totals added from this summer's Europe dates, overall ticket sales from the tour top $42 million from 45 reported concerts.On how he began flying airplanes:
On his upcoming appearance at
FIDAE
(also known as the
International Air & Space Fair
), set to take place in March 2013 in Chile:
On what he will do at the
International Air & Space Fair
:
On how he manages to juggle the different aspects of his life:
On what happened to his
BBC
radio show:
On the official
IRON MAIDEN
beer,
The Trooper
:
On the stigma surrounding metal fans — that they only listen to music and drink beer:
On whether he still practices fencing:
On his experience flying and landing his own plane with
IRON MAIDEN
in Chile:
On whether he has ever flown a fighter plane:
On pilots that inspired him:
On the next frontier for
Bruce Dickinson
to cross:
On whether he ever gets stressed from too much work:
On whether Chile has a special meaning for him:
A message for the Chilean people: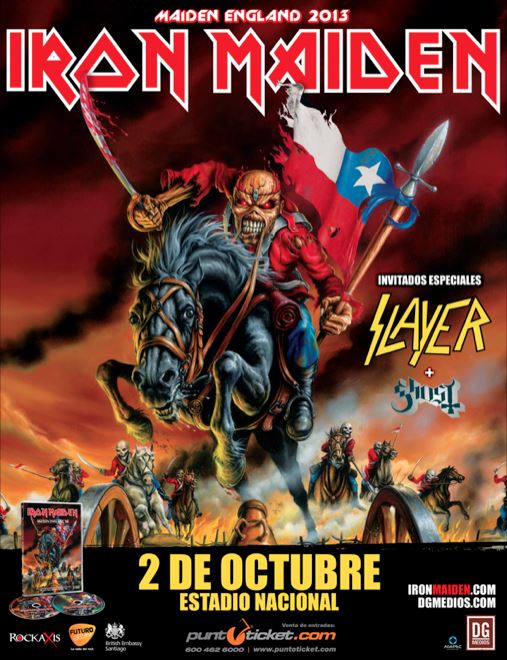 More...