Metal Is As Metal Does.
Staff member
Sep 30, 2001
354,010
485
83
San Francisco Bay Area metallers
MACHINE HEAD
kicked off the final tour with the band's current lineup Thursday night (October 4) at Ace Of Spades in Sacramento, California. Fan-filmed video footage of the concert can be seen below. Last week,
MACHINE HEAD
announced that the band's
"Freaks & Zeroes Tour"
would be the last one to feature guitarist
Phil Demmel
and drummer
Dave McClain
. A few days ago,
Demmel
issued a statement saying that it was "simply time" for him "to step away and do something else musically." The guitarist, who first played with
MACHINE HEAD
frontman
Robb Flynn
in
VIO-LENCE
in the late 1980s and early 1990s, added: "People naturally grow apart over time and it's no one's fault. It's amazing, and we're so fortunate to have been able to it for so long. "This last run will give us an opportunity to say goodbye as a group and have a sense of closure to an incredible run." In a video message,
Flynn
blamed
Demmel
and
McClain
's departures on the fact that he and his bandmates "have grown apart as people. Musically, we've grown apart. I have held on too tight to the reins of this band, and I have suffocated those guys." He went on to say that his "rough edges" have given
MACHINE HEAD
the success that it has, but "they've also hurt the people around me. I've got a lot of drive, but I've got a lot of anger and rage. And that drive of mine has alienated folks in the band," he said.
Flynn
, who is the sole remaining original member of
MACHINE HEAD
, insisted that he doesn't hold any grudges against his soon-to-be-former bandmates. "I ask that you respect
Phil
and
Dave
's decision, as I respect their decision," he said. "I wanna say that I'm honored and grateful for everything that they've contributed to
MACHINE HEAD
, which is a lot. 15 years with
Phil
, 23 years with
Dave
."
Flynn
went on to say that he doesn't "know what the future holds." He added: "We're all a little scared. I'm scared, and they're scared. But if you're looking for a drummer or a guitar player, you can find no better people to have [than
Dave
and
Phil
]." Personally,
Flynn
plans to "do a little bit of soul searching here in my life and take a long, hard look at myself, as I've done in the past. I've done 20 years of therapy at this point, and apparently it wasn't enough," he laughed. "I guess I need to do about 20 more."
Flynn
later clarified in a separate video message that "this is the farewell tour of this lineup, this era of
MACHINE HEAD
. This is not the farewell tour of
MACHINE HEAD
," he said.
MACHINE HEAD
's final tour with the current lineup will conclude on November 24 in Santa Cruz, California. The band's latest album,
"Catharsis"
, was made available in January via
Nuclear Blast
.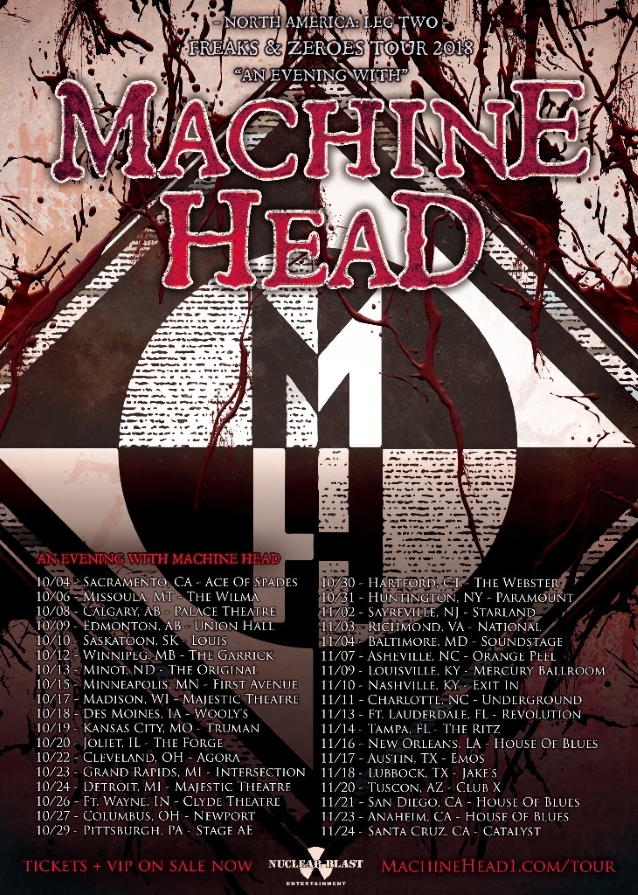 Continue reading...